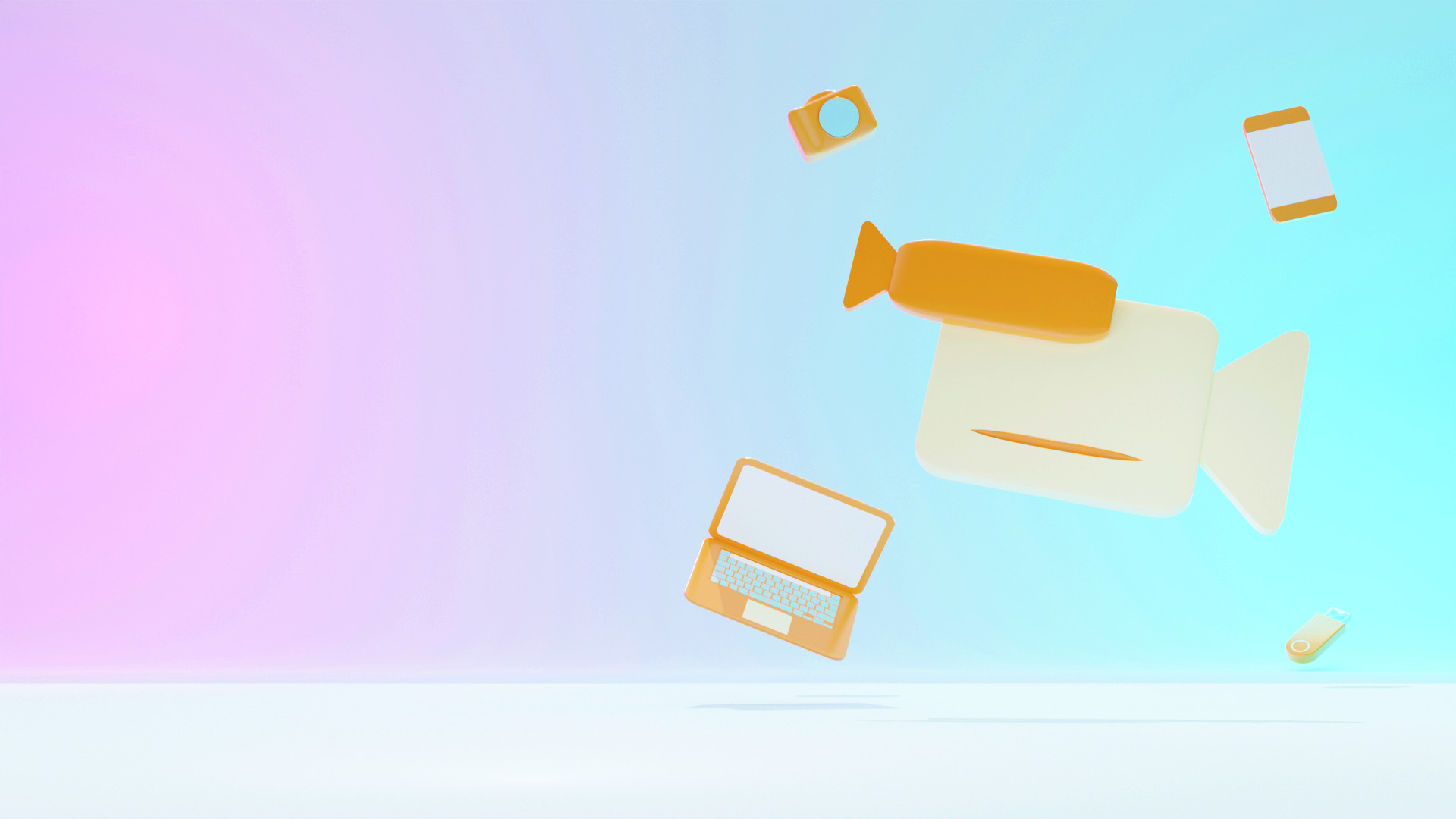 For anyone who wants to keep up their video content's success in 2023, these 3 changes are essential. But it can be complicated, let alone time consuming, and if you don't do it right, you could end up spending your entire budget with nothing to show for it. Enter our guide.
Who should do this and why?
By now every business manager and owner knows how important marketing efforts are for the success of their business, but it can be challenging to stay on top of exactly what the "best practices" for filling your digital marketing funnel are today. The advertising and marketing industry has seen a massive uptick in video content in the last five years, with platforms like Instagram and YouTube scrambling to keep up with TikTok in consumer screen-time. Every business should be taking advantage of this trend in consumer behavior by utilizing video production services to boost their marketing content because it could dramatically affect your return on marketing efforts in 2023. If you'd like to learn more about more specific activities your business would benefit from the most, schedule a chat with our team here.
Changes overview
Start Using Video Content
Transition your Ads into Videos
Write your Brand in Video
Change #1: Start Using Video Content
To nobody's surprise, if you and your creative marketing agency aren't already utilizing video content, you definitely need to be! Almost all consumer internet traffic is geared towards video content and that percentage is only growing. Companies who make the most of their video content are using it on their social media accounts, throughout their company website, in their ad campaigns, and as value-adds for their product lineups.
So why aren't some businesses using video content?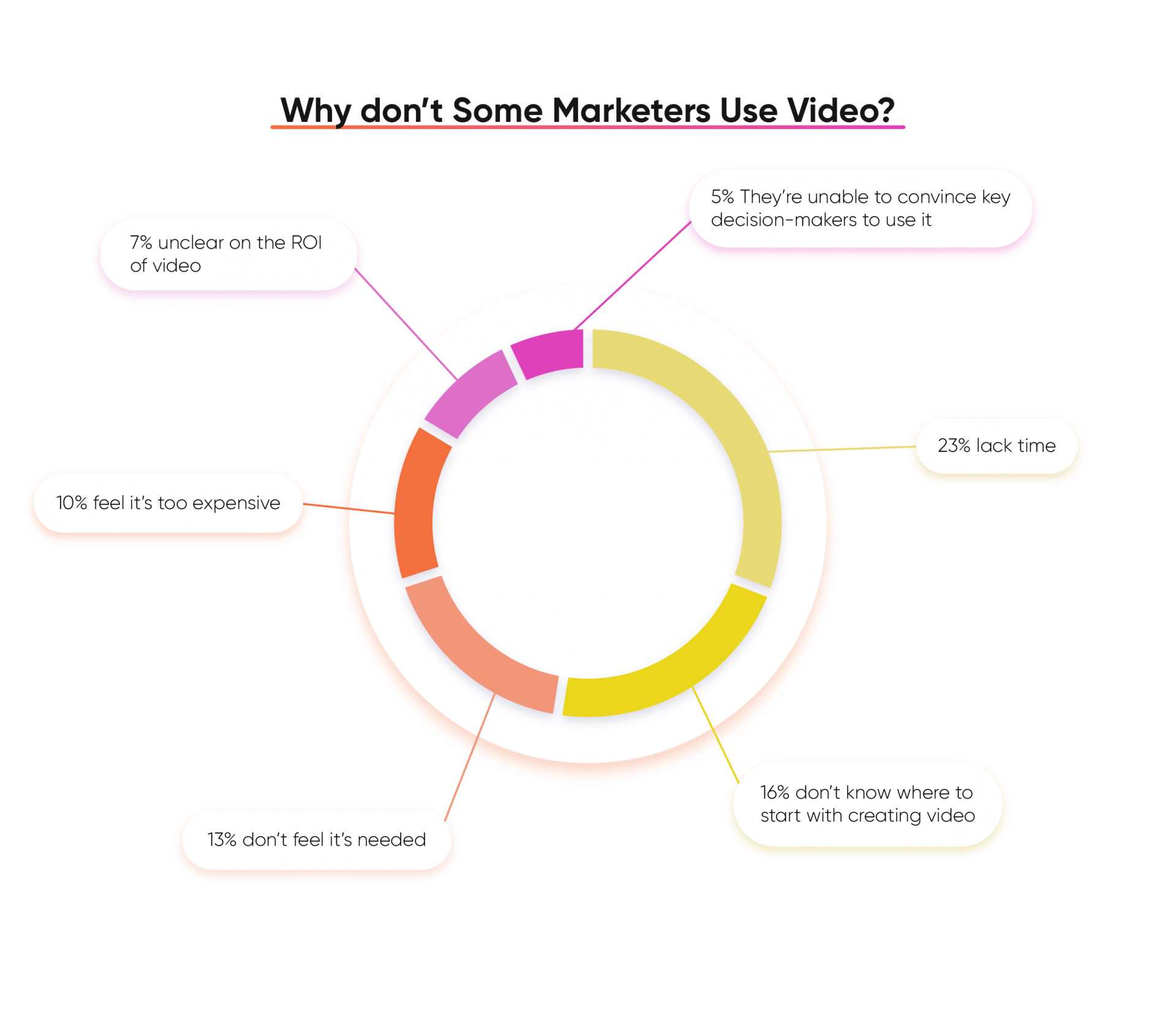 The biggest barrier for most businesses is lack of time. It takes a lot of time and effort to run a productive social media account, let alone create all this new video content on top of that. Are there ways around this problem and the other barriers? Let's explore some options:
88% of people say that they've been convinced to buy a product or service by watching a brand's video, and when asked how they'd most like to learn about a product or service, 73% said they'd prefer to watch a short video. This compares to 11% who'd rather read a text-based article, website or post, 4% who'd like to view an infographic, 3% who'd rather download an ebook or manual, 3% who'd rather attend a webinar or pitch, and 3% who'd like a sales call or demo. (www.wyzowl.com/video-marketing-statistics)
Start using video content!
Change #2: Transition your Ads into Videos
Right now I would be willing to bet that most of your ad creative is static, non-video content with no animations or movement to make your ad stand out. I'd also be willing to bet that most static ads you see on a daily basis never stand out to you–so why are you still trying the same unremarkable strategy? Coegi Partners explored a Sprout Social report showing that "across Facebook, Instagram and Twitter, video content comprises only 14%, 11%, and 5% of each network's content, respectively." This leaves the field wide open for business to capture the attention of potential clients. We have seen a steady increase in video content since the birth of internet marketing, and that growth has only accelerated in the last five years. It is expected that 35% of all social ad spend in 2023 will be video content, and the best time to start transitioning into more engaging content was yesterday.
Familiarize yourself with the platforms your business is advertising on. You don't need to be an expert on the facets of social media, but understanding important details can help your accounts be productive and help your business grow overall. Your first reaction might be to brush this part off. In fact, most of us interact with social media every day; don't we have a good enough understanding of how it all works already? When we interact with these platforms as a consumer we miss the overarching themes of consumer engagement and behavior. These trends are different between TikTok, Instagram, Facebook, Twitter, LinkedIn and every other platform, so differentiating your content based on the platform you advertise on is crucial.
The quality of your video content counts, and not always in the way you would expect. Previously we discussed how each social platform is used differently by consumers and businesses; the same is true of how each social platform interacts with and moderates its users and content. For example, TikTok videos that use fast-paced tracks that play at 120 or more beats per minute have the highest view-through rate. The users on TikTok are geared toward fast content, instant gratification, and fresh content; so your videos should be to the point if you want users to pay attention. The "quality" of the content your produce will be different on each platform. Some platforms prioritize less professional quality content because it creates a more organic user experience, while others prefer top-notch agency work. Regardless, every platform is always looking for accessibility. In a report conducted by PLYMedia, they found that video content with captions saw a 40% increase in view-through rate. Graphic design services, video production services, and creative agency- expertise can provide significant increases in video-marketing ROI. You can find loads of information regarding the ever-changing best practices online and through the expertise of your marketing agency.
Change #3: Write your Brand in Video
By now we have established that video content is king, will be king, and has already been king. Clearly this must go beyond just video ads, it's going to be a huge part of our lives going forward and we should make adjustments accordingly. Consumers are more likely than ever before to be introduced to your brand via video content, you should maximize this brand development opportunity by finding areas of your business that could benefit from more modern media.
Begin by taking a trip through your digital marketing funnel from your client's viewpoint. You aren't aware you exist yet and will need to find out what you offer:
How do your clients become aware of your business? Are your client's finding you via social media? Word of mouth? Good SEO service?
Now your client is aware you exist, how are they interacting with you? A static image? A PPC text ad? A blog?
They've made contact with your business in some form, maybe they've made it to the website or your storefront. Now it's time to sell what you offer. What are they interacting with next? (this doesn't have to be a person)
The client moves forward with your business. Do they need more education on what they got from you? Will they need ongoing support? What media helps them through these needs?
When will the client see you again? Can you upsell? Can you re-sell? Is there a thank you/salutation?
Each of these bullets is an opportunity to improve your client experience through video content. This will strengthen your brand image by showing your commitment to and understanding of a modern client experience; clients can feel the difference and will take note for future projects and potential referrals.
Consistency, Consistency, Consistency! To write your brand in video successfully, your brand voice should be strong and clear in all the content you put out. A potential client should know what's being sold to them and who is selling it right when they first interact with your content. This applies within your digital marketing funnel as well as between the different content you put out. For example, if a potential client scrolls by one of your ads, they have subconsciously created a fingerprint of your brand; this could be colors, textures, fonts, art style, etc. This potential client is now expecting to see this fingerprint next time too, so if they click your ad and get sent to your website, it better share the same fingerprint or you've just lost any brand loyalty/trust you've built through that ad. This is also true between ads. Often it takes seeing an ad more than once to get a consumer to interact with it, and it might not be the same ad in the same place. If you ensure your fingerprint is clear on both ads, the consumer can build brand loyalty/trust with each interaction.
Now you know how to master your video content in 2023!
It can seem ridiculously overwhelming to stay on top of everything, especially if you're a business owner or entrepreneur. Luckily none of these changes have to take place overnight, really, it's a transition you'll make slowly. The number one challenge businesses face when making this transition is getting started, often due to lack of time. Schedule 15 minutes with our team here at TwentyThree.Five to figure out where to start, we would be happy to get a game plan started.